News
Help for a 12th century gem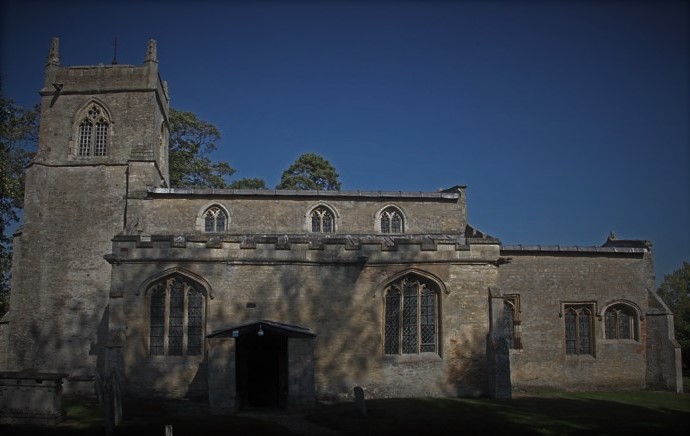 The North Bedfordshire Church of St Mary, Shelton is a gem. It dates from the 12th century and remains almost entirely as it was when built, with no subsequent alterations. 
There are medieval pews, wall paintings, and 16th century windows with glaziers' markings. 
The Trust awarded St Mary's a grant of £12,000 in 2022 to replace the entire surface water drainage system - everything from gutters and downpipes, to drains and soakaways. For centuries all that existed to remove the rainwater were medieval gargoyles.
The work which the Trust helped fund is now complete, and has been put to the test with heavy autumn rain.
PCC Secretary Heather Wells explains: " The builders were brilliant and re-covered and grassed over all the ditches that had to be dug for the drains. The drains themselves now look as if they had always been there. 
"The water now runs away from the building so it no longer penetrates the walls, damaging the interior lime plaster and the medieval wall paintings. The church itself also feels less damp and therefore not as chilly, so we will be eternally grateful for the Trust's help."
St Mary's is one of twenty churches that was awarded a grant in 2021-22.   
Government help for church repairs
The Department for Digital, Culture, Media & Sport has announced that the Government's Listed Places of Worship Grants Scheme will be extended for three years to 31 March 2025.  
Grants cover the cost of VAT on repairs to listed buildings in use as places of worship. 
Applications may be made in respect of repairs to the fabric of the building and include associated professional fees, as well as repairs to turret clocks, bells, and pipe organs.  
This can make a very significant reduction in overall costs and is good news for any listed church engaged in or about to embark on repairs or restoration.
British Empire Medal award
We congratulate the Trust's Events Secretary, David Allard, on the award of the British Empire Medal for "Services to Royston". 
David was recently presented with the award by the Lord Lieutenant of Hertfordshire at a ceremony in Hertfordshire Council Chamber.
David has just celebrated his 90th birthday, and still serves as Treasurer of the local History Society and leads walks for the local Ramblers Club among other things. 
Well done David.
In praise of Church Tours
Dr Stephen Jury joined our North Herts church tour last September. 
"Around 30 of us met at Ware railway station and got to know each other while working out how to use the car park pay machine, but before long we arrived at the very pretty village of Great Amwell where the church of St John the Baptist is nestled deep in a leafy lane," says Stephen. 
This small ancient church is one of a few which still has its Norman apse intact. From the churchyard you can see the New River Canal – developed in 1613 to take fresh water to London. 
Next  was St James's, Stanstead Abbotts (owned by the Churches Conservation Trust). The splendid three decker pulpit is so lofty that the preacher can see right into the old box pew and there is, rather surprisingly, a beautiful blue modern stained glass window by Denny.
On then to St Dunstan's, Hunsdon which boasts a huge timber porch – possibly the oldest in the county and a splendid carved wooden Jacobean screen. By now it was time for a splendid pub lunch at the Bull in Much Hadham with excellent food- well organised too, in feeding a large group prom promptly. 
At St Andrew's Much Hadham- largely built from 1225-1550. Sculptor Sir Henry Moore was a local resident as was Edward Tudor, whose son became Henry VII.
Stephen explains: "I was most impressed by seeing the two Henry Moore sculptures at the church entrance, and the very fine needlework in the Millennial panel. It measures about 1 metre across and features the life of the village. The hassocks on display also display extremely fine stitchcraft."
The day ended with a visit to St Mary's in Ware- a large church in typical Herts style made of flint, with battlements. Of note is the very decorated 14th C font. Stephen explains: " St Mary's, unusually, runs as an ecumenical parish accommodating the Roman Catholic congregation and C of E. The church was undergoing extensive restoration work and we received an excellent presentation about the history and how the heritage is being preserved. We enjoyed further hospitality with an excellent afternoon tea. I look forward to the next BHHCT Church Tour."
Grants Available
There can be no doubt that maintaining a church or chapel can cost a lot of money and delaying a repair always means a bigger bill later.
Beds and Herts have a rich heritage of ancient buildings - and some impressive modern ones too - all of which need to be kept in good condition to allow them to function as places of worship and be an obvious Christian presence in our communities. A well maintained church makes a powerful statement to the world outside.
It is not always easy for church congregations to find the cash to deal with problems with their church building but it is essential they do - keeping the weather out for example has to be a number one priority. Repairs can be expensive, demanding a vast amount of energy to fund-raise for the balance.
If a church is having difficulty closing a funding gap to repair their church it might be worthwhile speaking to this Trust. A grant could make a real difference to local efforts to achieve what some might have thought at the outset, as the impossible.
The cash comes mainly from the annual sponsored Bike 'n Hike, held every year on the second Saturday in September. More details about this can be found here. The Trust is also working hard to establish an endowment fund so that it can go on helping churches, should income from the Bike 'n Hike be threatened.
To contact the Trust for more information about grants, e-mail: [email protected].