Bike 'n Hike 2020 a huge success
Bike 'n Hike 2020 has been an outstanding success and has raised over £110,000 thanks to the efforts of the bikers, hikers, supporters and organisers who have all worked so hard. It's a fantastic achievement and surpasses last year's total of £95,753.
Bike 'n Hike is our main annual fundraising event and we are delighted that it was able to go ahead despite the restrictions for Coronavirus.
BHHCT runs Bike 'n Hike on the second Saturday of September each year to raise funds which are divided equally between the Trust and participating churches. It is more important than ever now because churches have lost income from services and their own fundraising activities.
Bike 'n Hike is key to enabling the Trust to give grants to churches and chapels, of any Christian denomination, for the upkeep of those buildings which are important to the lives of local communities. 
Anyone is welcome to take part in Bike 'n Hike – you don't have to be a church goer, and we welcome bikers, hikers and those using other transport such as mobility scooter, car or horse.
Find out more from the Bike 'n Hike website  [email protected]
Tel:01767 312966
John O' Groats to Lands End with a difference
David Munchin, Team Rector of Welwyn, had an unusual John O'Groats to Lands End bike ride for Bike 'n Hike.
David's story starts with a bike event in the Pyrenees which was cancelled due to Covid19 restrictions.  So he booked a cycling holiday in the Alsace, and was all set to go until France was taken out of the travel corridor scheme a week before they were due to travel.  
Determined to do something, he persuaded his wife Ysmena to support him on a John O'Groats to Lands End bike ride.  As it was a week before Bike 'n Hike, he thought he would do it for that and seek sponsorship.
The idea was to do it quite fast, in 7 days (around 140-150 miles a day – 980 in total) and with some slightly rushed preparation they set off.
They even met Tom Sanders (then Vicar of Flamstead and Markyate) going in the opposite direction at John O'Groats - see photo below. 
Despite a very cold and wet start in John O'Groats, the first two days went well, covering over 300 miles to Loch Lomond. But the next day the electronic gears failed on the bike, leaving David with 2 gears rather than 22.  With no other option, they drove home.  
Not to be defeated they picked up another bike, headed to Monmouth and rode the last two stages of John O'Groats to Lands End – the last stage being the hardest. That left a 430-mile gap in the middle between Loch Lomond and Monmouth.
It so happened that David's next holiday, six weeks later, was booked for the Forest of Bowland – an area of outstanding natural beauty. So adding a stop at Loch Lomond and Keswick he finally managed the middle 3 stages over a weekend. It was not ideal as by late October the days are shorter and it meant starting in the dark each morning.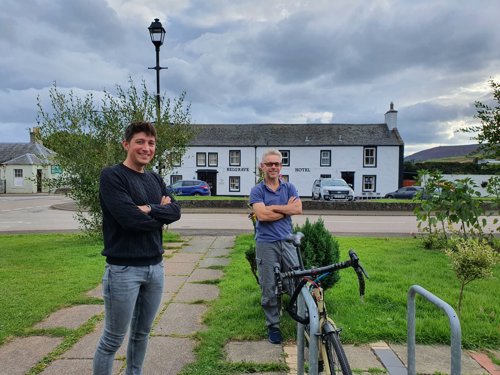 David said: "There was one COVID19 sting the in tail – the last two miles should have been a glorious downhill run into Monmouth but, the day before I got there, Wales closed its borders and I was forced to stop at the border two miles short!"
Well done for such perseverance and an outstanding achievement.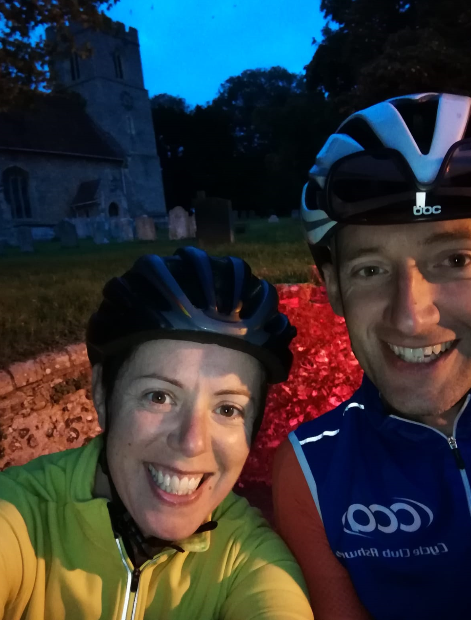 165 mile cycle ride in one day
David Wells and his wife Jenny  embarked on a record breaking cycle trip for Bike 'n Hike covering all 21 of the Trust's administrative areas between them in one day. 
They started the day together, at dawn and after the church at Standon, headed in opposite directions. 
Jenny's route included Hertford, Bishop's Stortford, Buntingford and Stevenage, covering a total of 28 miles.  
David took the rollercoaster roads of 'Little Switzerland' to Potters Bar, across to Watford,  then north as far as Bedford before turning south to the home territory of Knebworth and Dane End, finishing at 137 miles.
They passed over 60 churches between them. David said: "Seeing the breadth of different churches of all shapes and sizes around the two counties was a great reminder of the physical role church buildings play in our landscape, as well as housing the excellent work within their communities."
For more fundraising information and a list of churches taking part click here: www.b-n-h.co.uk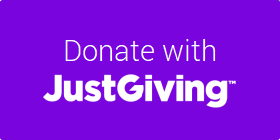 You can now collect sponsorships through your own Trust web page on Just Giving.

Stephen West from Hitchin cycled to churches in his home town, took a train Hatfield (see above pic) for more churches and then cycled the St Albans Way, visiting churches in Sandridge, cycling on to see churches in St Albans itself as well as the cathedral.
He called his mammoth ride "a pilgrimage as well as a Bike 'n Hike event". (Pic. left, Stephen in St Albans Abbey)
Take pictures of your part in the Bike'n Hike and send them in to us, we would love to see them. We could use them on this website or in Trust News
Send your pictures to: [email protected]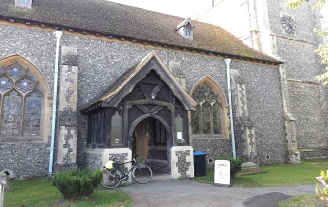 Bike 'n Hike is linked to the nationwide 

Some tips for cyclists and walkers.....
Be Safe!
Make sure your bike is in good repair
Wear high visibility clothing and a safety helmet
Plan your route to avoid heavy traffic
Parents - accompany your children unless you are confident they are old enough and expeienced enough