Inspiring stories of Bike 'n Hike
John o' Groats to Lands End
David Munchin, Team Rector of Welwyn, tells us about a slightly unusual John O'Groats to Lands End (JOGLE) bike ride for the Bike 'n Hike.
'The story starts with a bike event in the Pyrenees cancelled due to Covid19. So we booked a cycling holiday in the Alsace: then travel to France was stopped a week before we were due to go.  
Determined to do something, I persuaded my wife Ysmena to support me on a John O'Groats to Lands End bike ride.  It was a week before Bike 'n Hike, so I thought I would do it for that and get sponsorship.
The idea was to do it quite fast – 7 days (140-150 miles a day – 980 in total). 
It was strange to meet Tom Sander (then Vicar of Flamstead and Markyate) who was going in the opposite direction and reached John O'Groats the day I left (see photo below).
Despite a very cold, wet start, the first two days went well, covering over 300 miles to Loch Lomond. Next day the bike's electronic gears failed, leaving 2 gears rather than 22. We'd no option but to drive home. Not to be defeated we picked up another bike (you can never have enough), headed to Monmouth and rode the last two stages of John O'Groats to Lands End – the last stage being the hardest of the seven.  That left a 430-mile gap in the middle between Loch Lomond and Monmouth.
It just so happened that my next holiday, six weeks later, was booked for the Forest of Bowland. By adding stops at Loch Lomond and Keswick I managed the middle 3 stages over a weekend. Late October days are short so I started in the dark each morning.
There was one COVID19 sting in the tail – the last two miles should have been a glorious downhill run to Monmouth but, a day before, Wales closed its border and I was forced to stop two miles short. I hope that still counts! Eight weeks and ending at a tiny hamlet of Welsh Newton is not a usual JOGLE but we live in strange times and it was all for a good cause."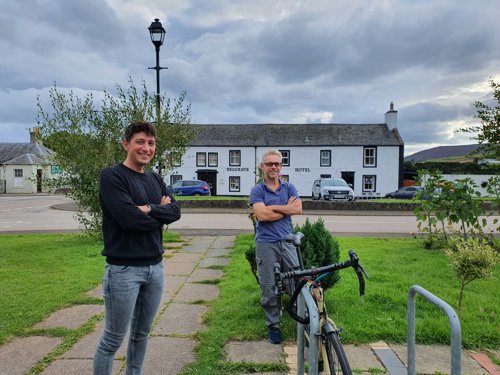 156 miles and 60 churches in a day
Dave Wells explains how he and his wife Jenny sped across the two counties by bike.
"Wanting to take part in Bike 'n Hike, Jenny and I set ourselves the challenge to ride through all of the Trust's 21 administrative areas between us, passing as many churches as we could. 
We started the day together, covering the three churches of the benefice at dawn– we hadn't taken into account how dark it is at 6am in September.  After Standon, we headed in opposite directions. 
Jenny had a race to prepare for next day and needed to keep the miles shorter, so she covered Hertford, Bishop's Stortford, Buntingford and Stevenage in the north and east. Jenny's tour took her through Puckeridge, Braughing, and Buntingford, before dropping south through Walkern and Bennington and home for a total of 28 miles.  
My route started with the rollercoaster roads of 'Little Switzerland' to Potters Bar, then Radlett, Watford, Hemel. Then it was into Bedfordshire via Luton, Dunstable and Bedford, before turning south, through Great Barford, Cardington, Henlow, Hitchin, and the home territory of Knebworth, Datchworth, Watton, and Dane End, at 137 miles.
We were fortunate to have beautiful weather, and only a light breeze.  Bike 'n Hike is a great day out, where you can visit as few or as many churches as you like. We probably took it to an extreme, passing over 60 churches between us!  Seeing the breadth of different churches of all shapes and sizes around the two counties was a great reminder of the physical role church buildings play in our landscapes, as well as housing excellent work in communities.
A highlight for me was a break at All Saints, Houghton Regis, where I had excellent cake and coffee, and a tour and demonstration of the bell tower (not easy in cycling shoes) – all with Covid precautions.  
I was grateful for the welcoming party of Deborah, Barbara and Jenny back at Little Munden, and treated myself to a day off the bike to recover!"